JOHN COUTIS' NEW BOOK "FROM THE GROUND UP"
One man's journey, of courage, conviction and love…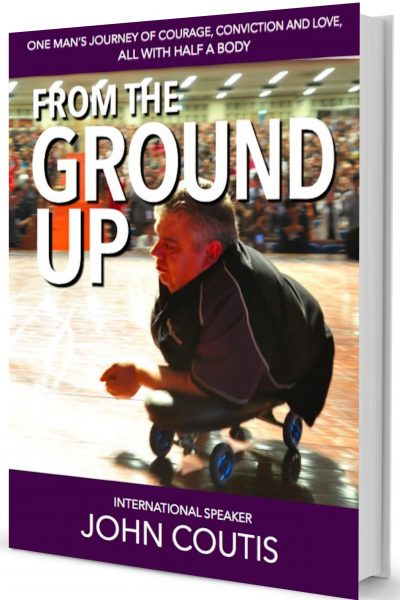 Available now in Paperback and eBook versions, directly from Amazon.com
One man's journey of courage, conviction and love. John Coutis.
Discover how John Coutis inspires millions to overcome obstacles and do what they love anyway. His story of perseverance of being born with a sever medical condition that rendered his legs useless, he took the courageous step forward to have them amputated at a young age. This decision paved the way for a future of epic proportions
John Coutis – International Speaker, Trainer and Author, is a believer in your success. He is one of the world's top professional speakers, having led the stage with the likes of Gen. Norman Schwarzkopf, Lee Lacocca, Mark Victor Hansen, Stephen Covey, and Brian Tracy over the past 20 years.
He has inspired and educated millions of people, including business leaders, school children and sporting legends, around the world with countless examples of how our success is already written regardless of the gifts and talents we are born with. He teaches simple principles in leadership, resilience and using your experience in life to touch millions around you.